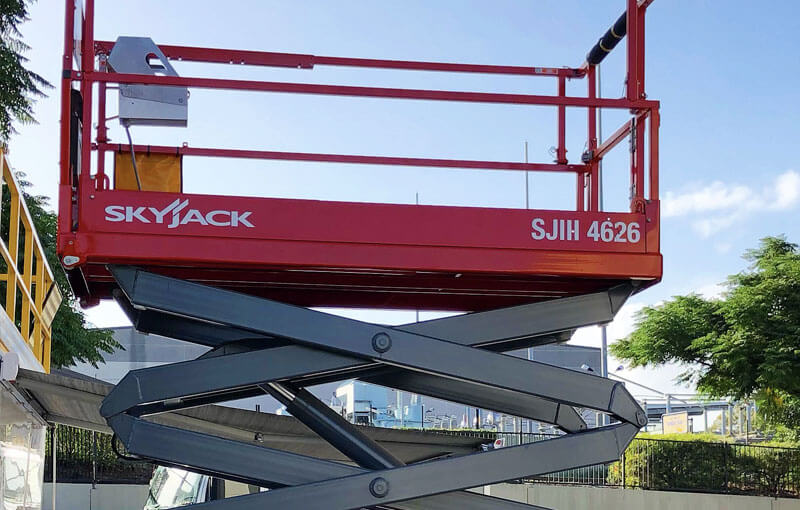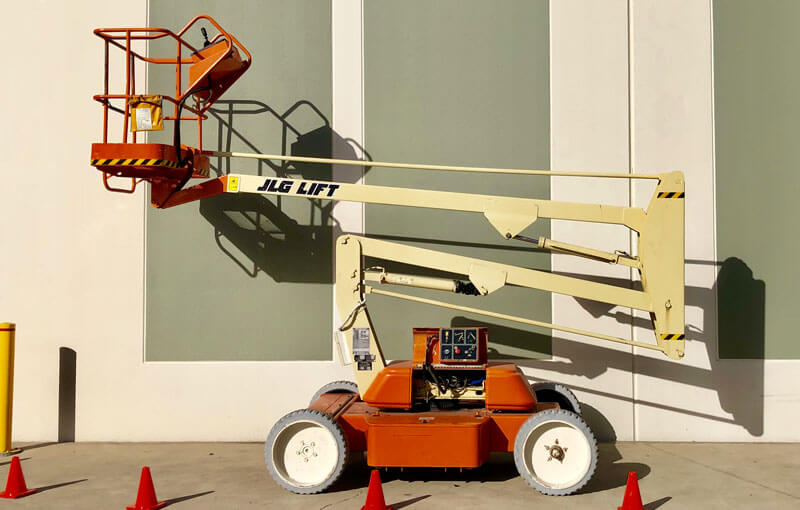 Both Scissor Lifts and Boom Lifts are used to hoist workers up to areas that are high and therefore hard to reach.
Scissor Lifts are work platforms that are generally used in manufacturing, construction, and industrial industries. These lifts have a criss-cross or X pattern. They can only move up and down to raise or lower a person or persons to a desired height. One of the greatest advantages to scissor lifts is that they have large platforms that can fit several people at once along with materials required to perform a task.
Most scissor lifts can only reach heights of 20-50 feet (around 15 metres) and because scissor lifts only move vertically, there is no way to manoeuvre them around obstacles.
Scissor lifts are powered either electronically, pneumatically, or hydraulically. Electronic scissor lifts are powered by electricity, pneumatic scissor lifts are powered by compressed air, and hydraulic scissor lifts require hydraulic oil to operate.
A Boom Lift is a type of aerial lift, with greater flexibility than a scissor lift. This is because it is supported by a hydraulic arm that is capable of manoeuvring around obstacles. These long arms can
be angled in many directions to access hard-to-reach places. Boom lifts have smaller platforms than Scissor lifts and therefore can only hold a few workers and materials.
Most Boom lifts can reach heights of 130 feet (around 40 metres). Boom lifts have long arms that can be angled in many directions to access hard-to-reach places and different attachments like forks and lifting hooks can be added to the arms to suit different jobs.
Boom lifts are powered either by electricity, battery, or diesel. The towable lifts can be towed by a vehicle to the desired location..
There are two basic types of boom lifts.
Articulating boom lifts have bendable arms that make it easier to move the bucket around obstacles and access hard to reach places. They are usually used for cleaning and maintenance activities.
Telescopic boom lifts have straight arms and generally have higher weight capacities, but they are more difficult to manoeuvre and can carry only one person. Telescopic boom lifts are usually used for tree trimming or to access electrical poles and electrical wires for repairs.
Working at height always carries risks and you will need to complete training and obtain a valid licence to operate an indoor or outdoor scissor lift but the type of licence will depend on the height
you will be working at. Elevating Work Platforms (EWP) licensing is standardised across Australia for scissor lifts under 11 metres and an EWP Operator Ticket (Yellow Card) is what you need. If, however,
you are working on platforms higher than 11 metres, you will need a WorkCover High Risk Work Licence issued for the State in which you will be using the equipment.
Remember working at height is risky business so take necessary precautions and stay safe.