About this Course
Course Description:
This course provides students with the skills and knowledge required to operate and excavator to lift, carry and place materials.
This course is suitable to those working in site based roles.
Evidence is required to be collected that demonstrates a candidate's competency in this Excavator Ticket training unit. Evidence must be relevant to the roles within this sector's work operations and satisfy all of the requirements of the performance criteria of this unit and include evidence that the candidate:
locates and applies relevant documentation, policies and procedures
implements the requirements, procedures and techniques for the safe, effective and efficient completion of excavator operations
works effectively with others to undertake and complete excavator operations that meet all of the required outcomes
demonstrates completion of conducting civil construction excavator operations that safely, effectively and efficiently meets all of the required outcomes on at least two (2) occasions
selecting, fitting, testing, using and removing a minimum of three (3) of the following attachments: tilt bucket, buckets, lifting device, vibrating compaction wheel, ripper/tyne, compaction plate, compaction wheel, rock breaker, auger
Location:
Public courses run at Kallibr Training (RTO 32365) locations in Sydney and Brisbane.
Private training can be organised and conducted onsite if the following training and assessment requirements are met:
A room with access to power, a blank wall for presentation, a projector screen or a large TV, table/s and chairs.
Clear flat area for performing excavator operations
Excavator (in serviceable condition with operators manual present)
Course Outline
Available at Ingleburn, Salisbury
Onsite training available
Nationally recognised
Group discounts available
Online booking available
Course Availability & Pricing
Please see available public course dates below. Competitively priced training delivered by fully accredited and insured instructors.
We offer formal training and assessment both on-site and off-site. Our training course prices differ based on location – choose your local Kallibr Training site below. If you would like private course dates outside of those listed please send through an enquiry or call our friendly team.
Course Outcomes
Learning Outcome
Identify and interpret information from workplace procedures, documentation, legislation and regulations
Plan and prepare for operations
Confirm safe weight load limits
Operate plant in line with established requirements
Lift, carry and place materials to complete work activity
Select, remove, fit and use attachments for an excavator
Prepare to relocate the excavator
Conduct housekeeping activities
Outcome
A nationally recognised Statement of Attainment.
Further Information
Are you a highly experienced operator?
We run 1-day earthmoving upgrade courses for experienced operators!
Duration: 1 day (8 hours)
Outcome: Statement of Attainment + a Verification of Competence VOC certificate.
Requirements: Students must hold an old OHS certification OR have 500+ hours of operational experience.
See below example of an old OHS certification: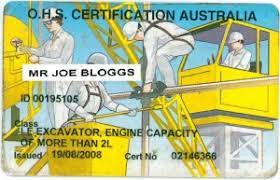 What is an Excavator Training Course?
An excavator is an industrial machine used to dig, move and lay various materials (such as soil, rock, piping, etc.) across a range of relevant industries, such as construction, mining, agriculture and more.
In Australia, if you want to become an excavator operator, you will need to be able to prove competency to your employer, who is liable for all safety on site.
The best and easiest way to do this is to complete an excavator course to obtain your Statement of Attainment (Excavator Ticket) to provide you with the learning experiences and skilled outcomes that result in proof of your competency.
Once you successfully complete the course with Kallibr Training, you will be awarded a nationally recognised Statement of Attainment in RIIMPO320F – Conduct civil construction excavator operations and a convenient, wallet sized proof of competency card.
Outcomes of Completing an Excavator Course
Throughout the duration of the course, you will learn the below outcomes via a mix of theory and practical experience with real equipment and live, onsite conditions. The key outcomes include:
Excavator Safety:
– Occupational Health and Safety
– Risk management and control procedures
– Legislations and standards
Prepare & Operate a Excavator:
– Prepare for excavator operations
– Select, remove and fit attachments
– Drive and operate/relocate an excavator
– Modify the operating technique to meet changing work conditions
Maintenance & Housekeeping:
– Carry out operator maintenance
– Conduct general housekeeping
Potential Excavator Jobs & Sites You Can Work On
There are many roles and industries that use an excavator and are in need of qualified operators. 
Here are 5 examples:
1) Mining 
Excavators are a popular choice in the mining industry to dig trenches and remove/move obstacles and materials quickly. 
Excavators can also be used on mining sites to extract minerals, ores and similar.
2) Demolition Specialist 
Adding a rock/concrete breaker attachment to an excavator makes it possible to use it for controlled demolition to dismantle structures, clear sites, break up streets and sidewalks and more. 
Most construction sites will need flat/cleared surfaces which could require demolition.
3) Environmental Restoration 
There is a growing area in need of excavator operators. Some of the possible responsibilities may include using an excavator to reshape land and shape water bodies (like lakes) and restore and preserve conservations.
4) Civil Construction Worker
Excavators are essential in civil construction, efficiently digging, lifting, and moving large quantities of soil and debris. Their versatility aids in foundation digging, trenching, and site preparation, expediting construction processes..
5) Landscaping & Earthmoving 
Excavator operators can help shape terrain, build man-made landscaping features (such as ponds) and move soil and other equipment and fixtures.