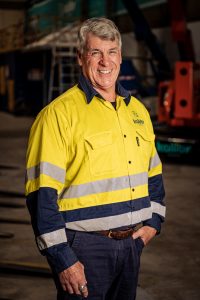 Paul started his career as a plant operator at the tender age of 14 and has been in the construction and mining industries ever since. We sat down with Paul to find out more about his background and why he enjoys working at Kallibr Training.
How long have you worked at Kallibr Training?
I've been full-time with Kallibr Training for 2.5 years, however I've been in and out of the business for over 10.
Initially, I worked as a contractor via my company, Triumph Training, on and off for approximately 8 years. During this time I also contracted to other RTOs. In between, I also spent 2 years at Boggabri Coal assisting Idemitsu with its transition to an owner-operator role.
What attracted you to a career as a trainer?
After many years on the tools I decided to hang up the belt as I didn't want to operate machinery into old age.
I wanted to share the skills and knowledge I had learnt on the job with the up-and-coming industry workers, and at the same time, gain a sense of satisfaction knowing the people trained by me were going into the workforce with the correct mindset.
How did you get started in your career?
I've been a plant operator since I was 14 years old after realising my academic qualifications weren't going to be enough to enable me to move forward. So, I completed my HSC via a night course at Seaforth TAFE and spent the next 10 years in the civil sector as a plant operator before moving into open-cut mining.
For the next 23 years, I was responsible for operating the primary machines at the mine, including electric rope shovels, cranes and all ancillary equipment. This culminated in me attaining my TAA which enabled me to train dragline crews on site. During this period I also captained the Mines Rescue Team and worked as a Remote Area Firefighter for the RFS.
Once the mine eventually ran out of inventory, I progressed to full-time training for a Mudgee RTO, moving all over Australia conducting training and assessment for a wide range of industries. This eventually led me to Brisbane and to my current role with Kallibr Training.
What's the best part of your job?
The best part of my job is the people I work with, including the enthusiastic trainees (and the fact that I get to go home every night and not return to a camp or motel!).
What does a typical day look like?
A typical day at work for me could consist of H/R licence assessment, training in any number of units, or occasionally travelling off-site to conduct VOCs for clients.
What's your favourite part of being a trainer?
Helping students attain their goals and enabling them to move forward in their chosen careers. All the Kallibr trainers are passionate about student outcomes, which really makes our team stand out amongst other providers.
What do you get up to when you're not at work?
I grow bonsai and I ride a big black bike!
What's something you wish everyone understood about training?
Often people have an 'it's not going to happen to me' mindset, but when it does, you don't get a warning. And in heavy industry, most injuries are unfortunately going to be major traumas.
Here at Kallibr Training, we are always looking to expand our pool of trainers. If you enjoy sharing your skills and knowledge and think you have what it takes to be a Kallibr Trainer, please get in touch.