About our Salisbury Facility
Brisbane's most comprehensive construction training centre.
Kallibr Training's (RTO 32365) fully-equipped training facility is designed to offer the best quality training experience. Our Brisbane, QLD facility is located at Salisbury and offers a massive array of plant, equipment and structures for construction, access and high risk training.
With six slewing mobile cranes (up to 150t), hoists, rigging, scaffolding structures, height safety training structures and more, we've got everything you need in an easy-access South Brisbane location.
Facility Features
High risk, plant operator and safety training in Salisbury
Our confined space entry and underground services structures are designed to give trainees a feel for real, on the job conditions. Our Salisbury trainers specialise in high risk work license training using the extensive range of equipment at our site. With real, working equipment and professional experienced guidance from our accredited trainers, we offer real quality worksite training in a safe and controlled environment.
Tower crane & Gantry crane
Personnel & materials hoist
Full Feature List
6 Slewing mobile cranes (with capacities from 3t to 150t)

Non-slewing mobile crane (Franna)

Tower crane

Gantry crane

Rigging Structure

Personnel and materials hoist

2 Materials hoists

Mast-climbing work platform

3 Forklifts

3 EWP's

3 Scissor lifts

2 Skid steer loaders

2 Excavators

Front end loader

Backhoe

Roller

Vehicle loading crane >10m/t

Vehicle Loading crane <10m/t

2 Heights structures

2 Confined Space Entry structure

Swing Stage

Scaffold structure

Underground services facility
Where To Find Us
The Construction Training Centre, 460/492 Beaudesert Rd, Salisbury QLD 4107, Australia
The Construction Training Centre, 460/492 Beaudesert Rd, Salisbury QLD 4107, Australia
View on Google Maps
Parking instructions
Kallibr Training is located within the Construction Training Centre (CTC)
Enter via Beaudesert Road
There is plenty of free all-day parking within the CTC. Just note that some car spaces are allocated to certain people and businesses
Kallibr's reception is in Building 2 of the CTC. You can enter Building 2 from the entrances identified on the map
Follow the signs to 'Kallibr Reception'. At the base of the stairs to our Reception, you will see a large TV screen listing all our courses running that day. You will find your name and the classroom number on that screen
Parking is also available along Central Drv and John Gaskin Drv within the CTC, and also underneath the Beaudesert Rd overpass at the entrance of the CTC
The following classrooms are in Building 2:
The following classrooms are in Building 10: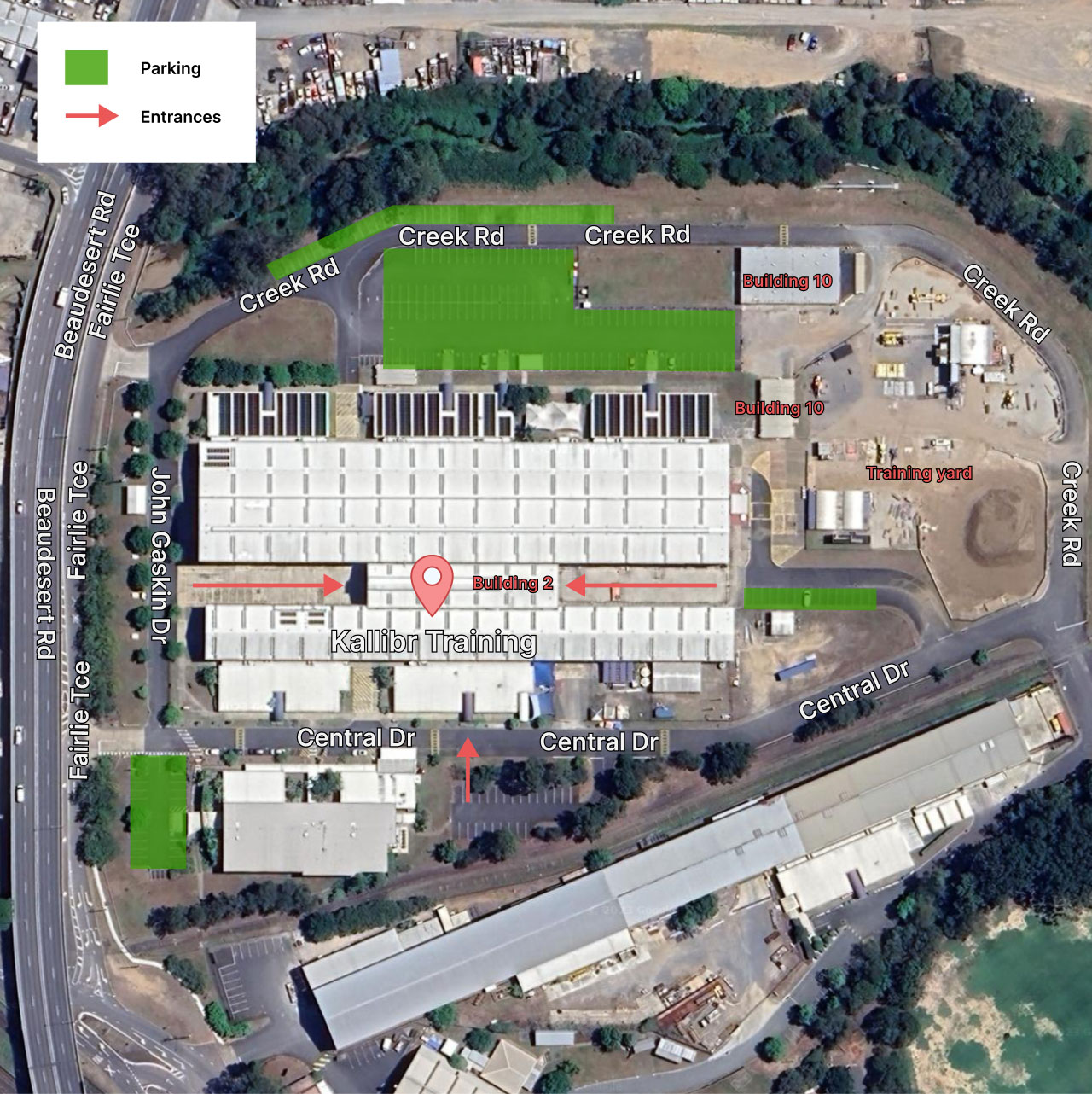 Virtual Tour
Our flagship Salisbury training centre spans 12,000 square metres and includes 13 fully equipped training rooms. Take a virtual tour of our facility!