About this Course
Course Description:
Haul Truck training is appropriate for those working in operational roles. This unit describes the skills and knowledge required to operate, load, haul and dump materials using an articulated haul truck. This training applies to both front and rear dumping haul trucks.
Evidence is required to be collected that demonstrates a candidate's competency in this training unit. Evidence must be relevant to the roles within this sector's work operations and satisfy all of the requirements of the performance criteria. Licensing, legislative, regulatory and certification requirements that apply to this unit can vary between states, territories, and industry sectors, and must be sourced form state jurisdictions prior to applying this unit.
This is a nationally recognised qualification that qualifies you to safely operate a haul truck in the civil, mining and resources sector.
Location:
Public courses run at Kallibr Training (RTO 32365) location in Sydney.
Private training can be organised and conducted onsite if the following training and assessment requirements are met:
A room with access to power, a blank wall for presentation, a projector screen or a large TV, table/s and chairs.
Clear flat area for performing haul truck perations
Haul truck (in serviceable condition with operator's manual present)
Course Outline
Available at Ingleburn
Onsite training available
Nationally recognised
Group discounts available
Online booking available
Course Availability & Pricing
Please see available public course dates below. Competitively priced training delivered by fully accredited and insured instructors.
We offer formal training and assessment both on-site and off-site. Our training course prices differ based on location – choose your local Kallibr Training site below. If you would like private course dates outside of those listed please send through an enquiry or call our friendly team.
Course Outcomes
Learning Outcome
This course covers the skills and knowledge required to competently operate an Articulated Dump Truck.
Plan and prepare for plant operations
Conduct pre-operational checks
Operate the item of plant
Lift, carry and place materials
Relocate the item of plant
Carry out machine operator maintenance
Conduct housekeeping activities
Outcome
A nationally recognised Statement of Attainment.
Further Information
Are you a highly experienced operator?
We run 1-day earthmoving upgrade courses for experienced operators!
Duration: 1 day (8 hours)
Outcome: Statement of Attainment + a Verification of Competence VOC certificate.
Requirements: Students must hold an old OHS certification OR have 500+ hours of operational experience.
See below example of an old OHS certification: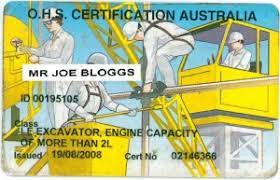 What is an Articulated Haul Truck Ticket?
Unlike a regular/rigid truck, an articulated haul truck is designed to provide greater traction and flexibility and can handle a wider variety of conditions (like narrow/restricted turning) and terrain (uneven, rocky, wet, etc.).
If you'd like to be able to operate an articulated haul truck (also referred to as a dump truck), an employer requires evidence of your competency first.
You can achieve your proof of competency by successfully completing an Articulated Haul Truck Ticket training course at a Registered Training Organisation (RTO) like Kallibr. 
During the course, you will receive specific training (including using real industry equipment and site conditions) to provide you with the learning experiences needed for operating an articulated haul truck.
At the end of the course, you will receive a nationally recognised Statement of Attainment upon completion which can be used as proof of competency with articulated haul trucks with an employer.
Potential Articulated Haul Truck Jobs & Sites You Can Work On
You will have a wide range of choice in terms of roles and industries that use articulated haul trucks and require qualified operators. Here are some examples:
1) Mining
Many mining sites that have inclines and uneven ground have a need for articulated haul truck operators to help load and move materials from the site and keep the area clear.
You may also be required to move valuable mined minerals safely and securely and deal with heavy loads such as excess dirt.
2) Quarrying
In a quarrying articulated haul truck role, you'll be responsible for transporting large loads of stone and other heavy materials to and from the job site while navigating across uneven and/or rocky terrain, steep inclines and drops.
It can at times be an unpredictable environment – but one that you'll have the skills and training to handle safely.
3) Construction & Infrastructure
Lots of construction sites and infrastructure projects require qualified articulated haul truck operators to assist with transporting all kinds of materials (dirt, soil, gravel and so on) around and away from the site.
An Articulated Haul Truck Ticket will give you an advantage in the construction industry and finding skilled roles.
4) Landscaping / Forestry
Large-scale landscaping projects that need large quantities of gravel/dirt moved often hire articulated haul truck operators.
Similarly, the forestry industry relies on dump truck operators to help manoeuvre around tight off-road spaces (i.e., trees, rocks, hills, uneven terrain and so on).
As an added benefit you'll get to work outside in all kinds of conditions and enjoy nature as your office!
Outcomes of Completing an Articulated Haul Truck Course

Below are the key outcomes you will learn throughout the duration of the course:
Prepare & Operate an Articulated Haul Truck:
– Plan and prepare for plant operations
– Conduct pre-operational checks for safety and functionality purposes
– Operate the item of plant and become capable in relocating the item of plant
– Learn to lift, carry and place materials
Articulated Haul Truck Safety:
– Learn essential OH&S requirements
– Risk management and control procedures
Articulated Haul Truck Maintenance & Housekeeping
– Carry out machine operator maintenance
– Conduct housekeeping activities