RoadTek: Practical community employment pathways
RoadTek is a community-led organisation providing transport infrastructure solutions throughout Queensland, operating as a commercial business within the Department of Transport and Main Roads (TMR).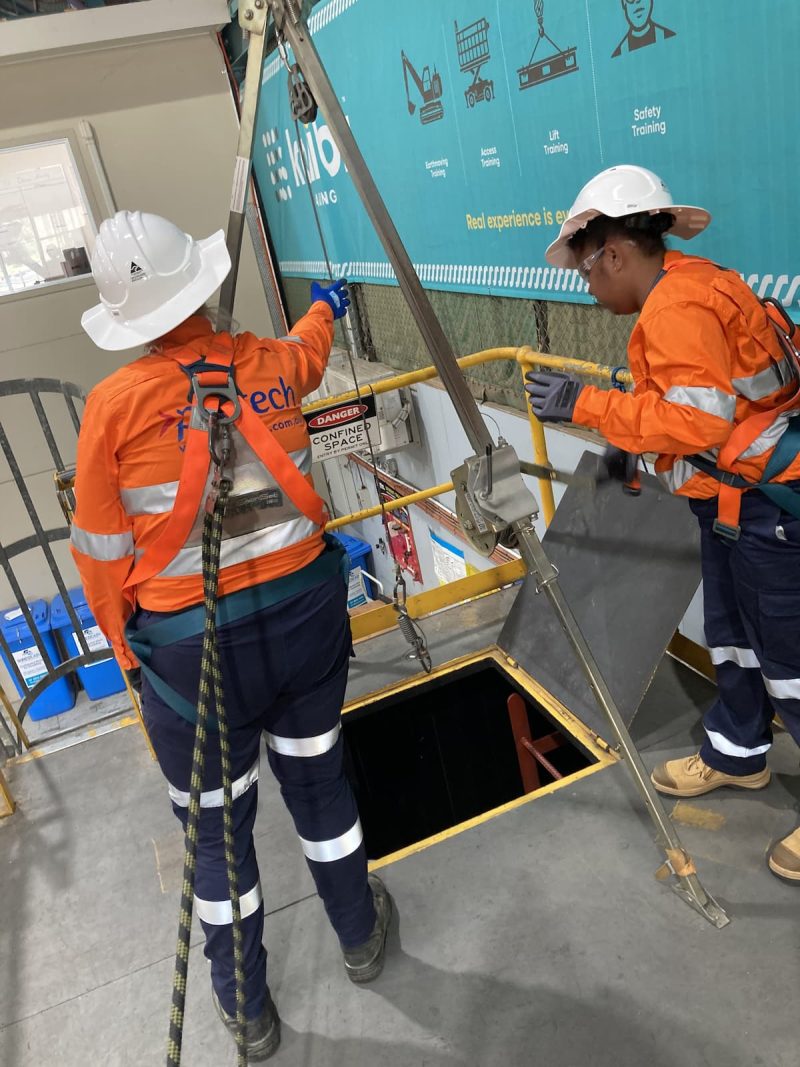 Parallel to providing practical solutions such as civil construction and maintenance, traffic management, line marking services and more, RoadTek partners with regional and indigenous communities to enhance training, development and employment opportunities.
This mutually beneficial arrangement ensures that crucial infrastructure delivery skills continue to be developed for TMR, whilst providing employment pathways and formal training for traditionally underrepresented community groups.
This program has been particularly valuable to remote communities, providing a tangible benefit to underskilled workers and ensuring TMR has the resources to respond quickly to short lead time and critical traffic and infrastructure issues in regional and remote areas.
RoadTek also actively works to attract and develop Indigenous workers, empowering Indigenous employees to progress through the RoadTek Civil Trades Development Program (CTDP). This provides a career path comprised of nationally recognised competencies and enables participants to develop critical frontline management, leadership and project management capabilities.
The Women in Construction Trade Ready Program is seeing strong success thanks to the cooperation and support of a range of organisations including Construction Skills Queensland, Dreampath, Protech, TMR and Kallibr Training (RTO 32365).
Women in Construction Trade Ready Program saw 20 participants start and complete the 7-week program, involving 3 weeks of training and an additional 4 weeks on site. During this program, students were given a taste of different civil construction projects including road construction and maintenance, bridge construction and road line marking.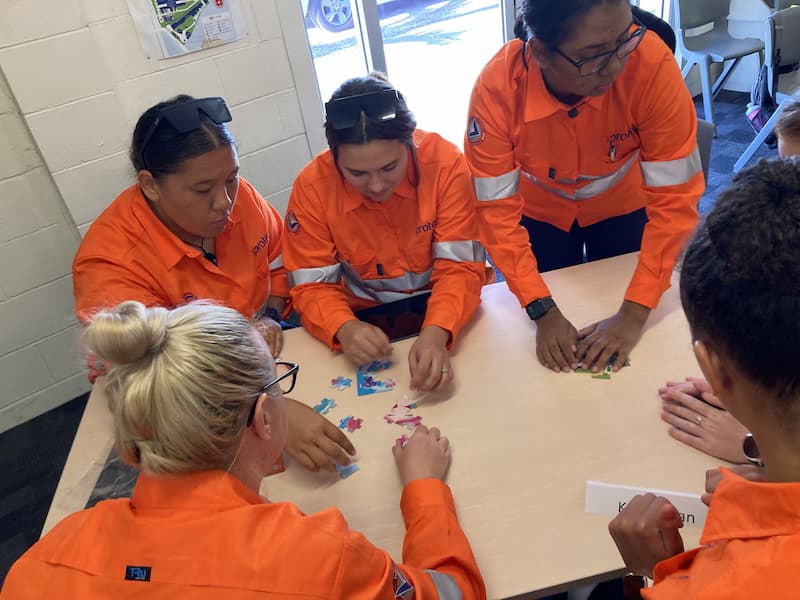 Program Statistics:
20 students completed the program
3 weeks training
4 weeks on site
7 indigenous participants
7 students under the age of 21
Students ranged in age from 19 – 37
7 successfully placed into labour hire positions
11 successfully placed into traineeships in the civil sector
Supporting the civil construction industry across Queensland
Held at Kallibr Training's Salisbury campus, we hosted students from Cairns, Mackay, Townsville, Rockhampton, Wide Bay, the Sunshine Coast, Brisbane, Gold Coast, Toowoomba, Warwick and Roma.
Our students were primarily joining us from diverse backgrounds and underrepresented sectors including the long term unemployed and underskilled workers. Seven indigenous participants also joined the program and we had seven students under 21 in our cohort.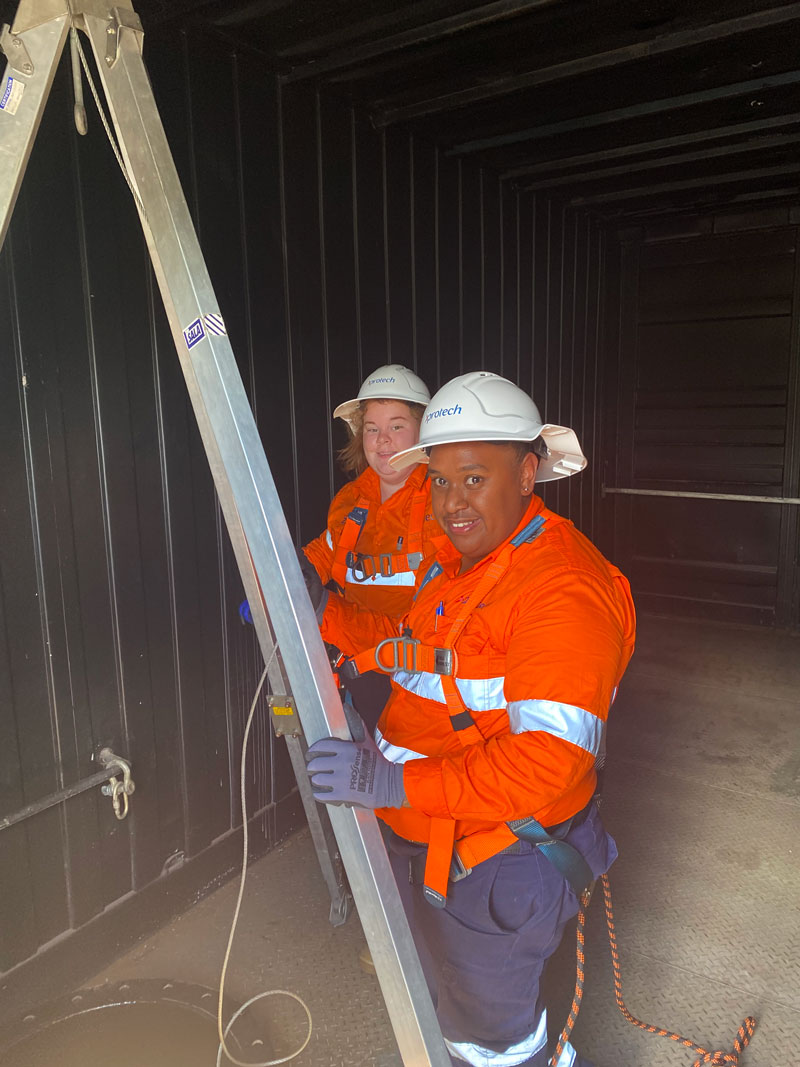 Our customised training program
Working through the challenges of COVID-19 and the recent Queensland floods, our flexible approach ensured that every student received the same level and quality of training. The 3-week program included:
Guest speakers
Multiple site visits to civil construction firms including Fulton Hogan
Employability skills training
Life skills program
Our students all enjoyed the practical training with Kallibr Training which included:
Operation of plant including excavators, rollers and skid steer loaders
Communication skills and use of two-way radios
Team building exercises
Risk Assessments
Incident reporting
Harness use
Correct selection and use of PPE
Digging and shovelling
Using power tools
Site prep and clean up
Toolbox talks
Unit outcomes for the Women in Construction Trade Ready Program covered the following nationally accredited training, with all participants passing with flying colours.
Work safely and follow WHS policies and procedures
Communicate in the workplace
Use hand and power tools
Read and interpret plans and job specifications
Enter and work in confined spaces
Work safely at heights
CPR
On completion of the program, 18 of 20 students have successfully secured full time work in the civil construction industry via RoadTek, a division of TMR.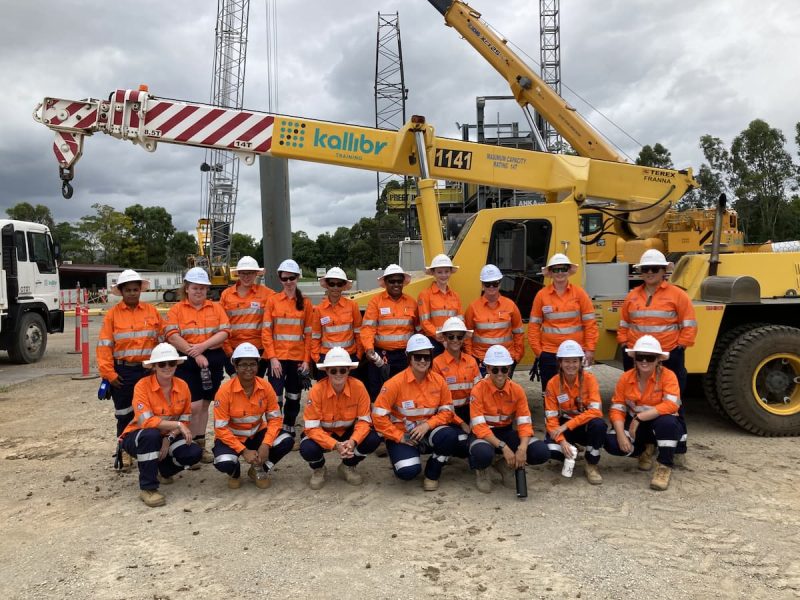 About CSQ
Construction Skills Queensland (CSQ) is focused on supporting workers in the construction sector, funding critical programs to help more workers confidently enter the industry. Kallibr Training is proud to have supported 20 students through a recent upskilling program in partnership with CSQ, Dreampath, Protech and the Department of Transport and Main Roads RoadTek Branch.
Learn more about Kallibr Training + CSQ
Kallibr Training has a long-standing partnership with CSQ, offering part and fully funded training that focuses on the safety, regulatory and licensing requirements of the construction industry. CSQ-funded courses are designed to provide apprenticeship support, skills assessment and gap training, and to get individuals upskilled fast with short job-relevant courses.
Find out more about our funded courses here or get in touch with our team to discuss personalised training programs for your organisation.