Kallibr Training (RTO 32365) would like to welcome Renee and Jeremy to the team!
We sat down with Jeremy and Renee to learn more about how they are approaching their new careers with Kallibr Training.
Jeremy Idiculas has joined Kallibr Training as our Industry Engagement Officer in NSW, with Renee Hamilton also joining the team as our QLD Industry Engagement Officer.
If you're heading to the Sydney Workplace Health & Safety Show next week you'll be able to say hello to Jeremy in person (get your free ticket to the show here).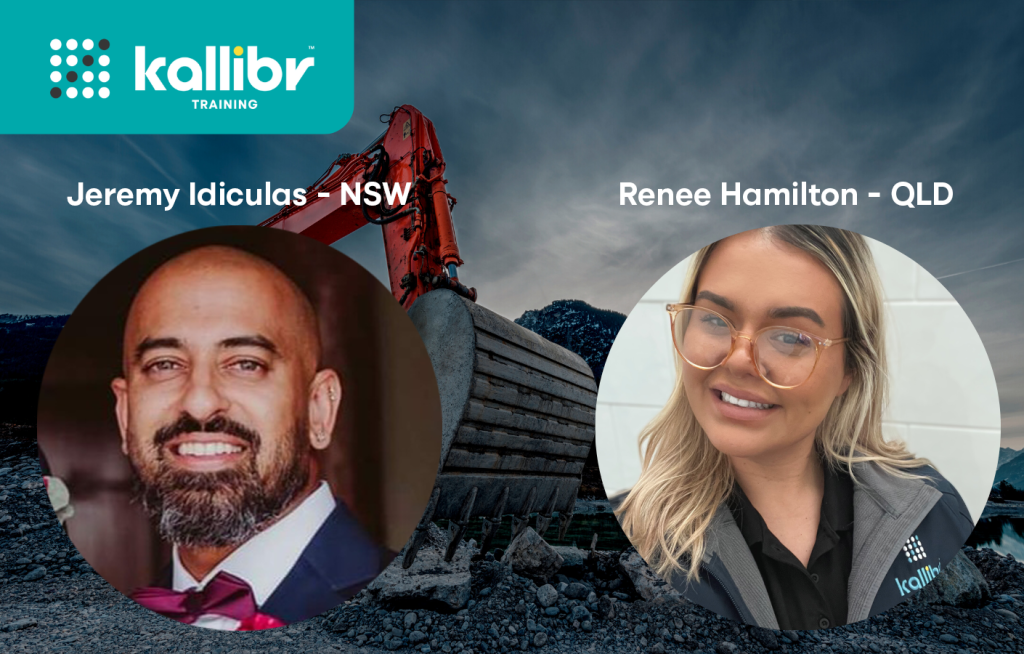 Team Q&A
You've just started with Kallibr Training recently – what are your first priorities in your new role?
Renee: My priority was understanding all the many facets of construction and safety training. There was so much to learn about prerequisites and equipment needed to complete training.
Jeremy: I started with Kallibr Training in May and I've been enjoying getting to know our customer base throughout NSW.
What does a typical day as Industry Engagement Officer look like for you?
Renee: Every day is about getting stuck in, as well as communicating with my team. But it is also about collaborating with our amazing clients and trying to make their process as smooth as possible.
Jeremy: Each day is different, but a normal day might include responding to enquiries, getting in touch with customers and re-engaging with our NSW customer base. NSW hasn't had a dedicated local BDM to date, so it's been great to reestablish contact with a wide range of businesses.
What's the most important thing to get right in our industry?
Renee: I believe communication and full clarity in a conversation is important to get right. Being able to deliver the correct information and being open to understanding the different needs of each client means we can really personalise the training experience.
Jeremy: Understanding that there is no 'one-size-fits-all' type of training. Every business is different and every client has a unique set of needs which we determine through a series of consultations and discussions to make sure our clients get the perfect training solution.
What do you get up to when you're not at work?
Renee: My family and I spend a lot of time together going on day trips to the beach or camping.
Jeremy: My kids keep me busy, and I also enjoy basketball and music production.
What drives you bananas?
Renee: Not having a coffee in the morning!
Jeremy: Sydney traffic!
What's your favourite part of working as an Industry Engagement Officer at Kallibr Training?
Renee: Making connections with so many different people and being able to help them make their workplace and staff as educated and safe as possible.
Jeremy: Seeing something through from start to finish – being able to turn an initial basic enquiry into a really great result for a customer is very rewarding. It's great to go through that process of identifying their needs, booking the right training, scheduling everything in, and then seeing individuals learning new skills.
What's one key thing you want people to understand about workplace safety training?
Renee: Workplace safety is everyone's responsibility.
Jeremy: It's not only about compliance. Training is often put in the too-hard basket and only seen as something you do to cover your regulatory responsibilities. However, when training is done to really build the capability of people, it ticks off much more than just the compliance box. Ultimately it's a matter of getting the right people doing the right training at the right time, which can result in amazing things.
Visit Kallibr Training at the Sydney Safety Show
The NSW Workplace Health & Safety Show is happening at Sydney Olympic Park this month. Come along and see us on the 20th – 21st September at Stand B8 where we will be chatting with visitors about all things training.
Plus, you can enter our guessing competition to spot the worksite hazards – you could be a winner!