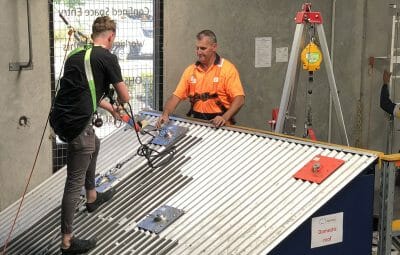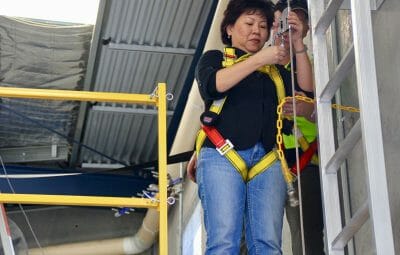 Operators of height safety equipment should be aware that their lives depend on the efficiency and durability of the equipment they use. Therefore, proper inspection, storage, servicing, and cleaning of the equipment is the first step in ensuring the safety of anyone working at height.
Industrial fall arrest systems and devices include safety harnesses, horizontal lifelines, rails, fall arrest devices, lanyards, connectors, anchorages, and fittings.
The requirements for the maintenance of height safety equipment are covered in the Australian and New Zealand Standard AS/NZS1891.4 2009.
The Standard covers the selection, safe use, and maintenance (including inspection, storage, servicing, and cleaning) of industrial fall arrest systems and devices designed for use in restraint technique, limited free fall and free fall applications.
AS/NZS1891.4 2009 requires that harnesses, lanyards, connectors and fall arrest devices, ropes, slings, and attachment devices be inspected by a competent operator before and after each use.
The Standard also advises that detailed inspections should be conducted by a height safety inspector every six months for most items. But items that are used and stored under harsh conditions need to be inspected more frequently. All inspections except those by the operator are to be documented. Equipment should be inspected both visually and by physical examination and where possible, the items should be opened and inspected to ensure that the internal components are also in good condition.
If the competent person inspecting the equipment doubts the safety of the equipment, it should be tagged out of service and a label should be attached to the equipment listing details of defect and should be referred to a height safety equipment inspector for further action. Please refer to AS/NZS1891.4 2009 for the details as the information provided here is only a brief overview.